The program offers artists a two-week residency at Spare Parts Puppet Theatre in Fremantle, providing access to studio space, company resources and support from artistic and technical staff to develop an original puppetry work.
After a highly competitive application process, Spare Parts Puppet Theatre has chosen four groups of talented Western Australian artists whose projects explore fearless and imaginative puppetry works, certain to captivate and stimulate audiences.
We are proud to support these talented artists and look forward to supporting the creative growth and innovative puppetry works that will emerge from the program. We'll share more information as each residency takes place across 2023.
The selected recipients for the 2023 Artist in Residence Program are:
Greg Molloy and Marijke Loosjes
Tech Duinn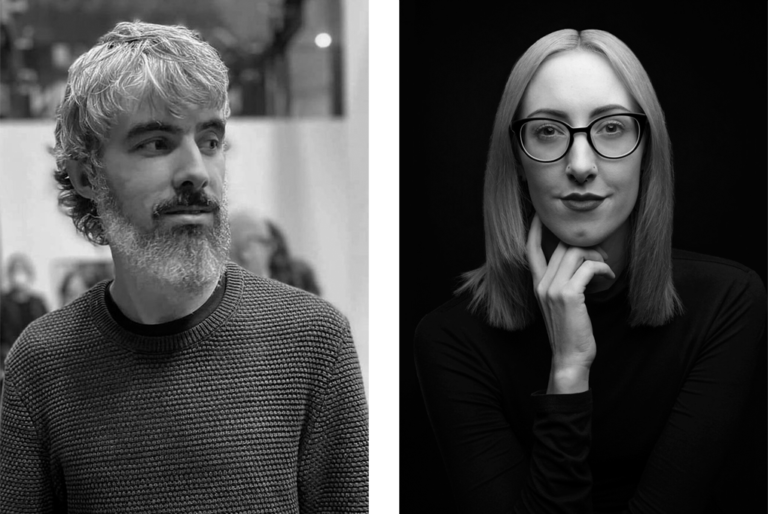 Greg Molloy is an Irish artist based in Boorloo, Whadjuk Noongar country, who graduated from Curtin with a Bachelor of Arts and has exhibited regularly in WA since then with work in kinetic sculpture, print, drawing, sound and installation. His dynamic practice combines studies of absurdist fiction with kinetic hybridized anatomical structures of animal and human figure forms, built with industrial methods of construction present in musical instruments, stop-motion puppet armatures and furniture fabrication.
Marijke Loosjes is an interdisciplinary artist based in Boorloo, Whadjuk Noongar country. Her practice explores the human condition, engaging with themes of mortality, transience and abjection. She works in photography, performance, installation and mixed media sculpture to presenting a blended dichotomy of unease and beauty, Since 2014 she has performed under the name Essie Foxglove, further exploring these themes in an alternate performance style of burlesque. She graduated from Curtin University with a Bachelor of Arts in Fine Art in 2010.
The Project
Inspired by the Irish god of the afterlife, Duinn, this project aims to create an immersive experience through a performance art/installation, featuring giant puppetry, translucent high-gloss resin panels, movement, body shadow, lighting and sound design.
---
Scarlet Davis, Lily Baitup, Cam Appleby
Charlotte's World Wide Web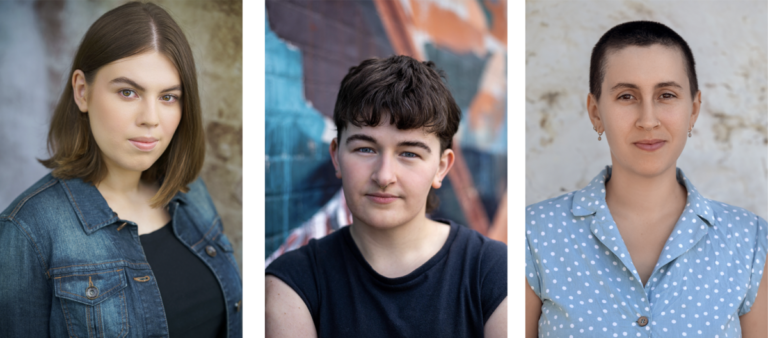 Lily Baitup is an award winning actor, writer and performance maker residing in Perth (Wadjuk Noogar Boodja). She is passionate about making and performing in work for both screen and stage and is an alumni of the Bachelor of Performing Arts (majoring in Performance Making) at the Western Australian Academy of Performing Arts, having previously completed the Diploma of Acting there. Her training spans a wide variety of performance skills, including puppetry, screen acting, clowning and improvisation.
Cam Appleby (she/her) is a performance maker based in Boorloo, who creates work that is multi-layered and heartfelt. After graduating from the Performance Making course at WAAPA in 2020, Cam continued to devise and perform work solo (Inanis, PICA 2019; APPLEBY, The Blue Room Theatre 2021) and in performances with non-hierarchical structures (this subject intentionally left blank at TILT, The Blue Room Theatre 2020). Her work is focused on playful storytelling, integrated multimedia, and physical theatre. A co-founder of Undercurrent Theatre Company, she continues to create movement works with the company (My Shout, The Blue Room Theatre 2021) and integrates physical theatre and training into her own practice.
Scarlet Davis (she/they) is an emerging producer, writer and maker breathing, yarning, and making on Whadjuk Noongar Boodjar. Scarlet co-founded Undercurrent Theatre Company, which had a successful year with their debut Blue Room show, My Shout and a Fremantle Arts Centre Residency to develop new work, Common Ground. In 2021, Scarlet broke into screenwriting, co-producing and co-writing horror-comedy, Meat Cute, due to film in late 2023. Scarlet is eager to continue pushing her practice to explore new roles in 2023 while continuing to write and devise her own works with strong themes in environmentalism, feminism and gender/queer politics.
The Project
This residency explores a modern interpretation of the spider from Charlotte's Web in the context of internet and influencer culture, with a combination of rope web staging, puppet figures, object theatre, and screen-based visuals.
---
Rhiannon Bryan, Marli Haddeil, Leisl Lucerne-Knight, Holland Brooks, Jo Cooper, Mazey O'Reilly
The State
Rhiannon Bryan (They/She) is a multidisciplinary theatre artist with skills in performing, writing and dramaturgy. They are a graduate of WAAPA's Bachelor of Performing Arts Performance Making (2022) where they created works that probed systematic violence and moments of intimacy through forms of dance theatre, direct address, and body horror. Rhiannon is passionate about creating work that is political, gay, extreme and deliciously grotesque. They are currently completing their Honours with a thesis on the different theories of intimacy coordination as live graphic art pertains to cultural importance.
Marli Haddeill (they/them/jup(iter)) is a Borloo based performance maker and recent WAAPA Bachelor of Performing Arts (Theatre Making) graduate where they received the Peter Hurford Excellence and Belinda Dunbar awards. Their work deals with queer existence and social narratives, often interrogating their broader implications in our society. They operate across multidisciplinary storytelling modes encompassing drag, puppet theatre, and political satire.
Leisl Lucerne-Knight (they/them) is a multidisciplinary maker and storyteller who is skilled in design, dramaturgy, and devising. In their graduating year of WAAPA's Bachelor of Performing Arts Performance Making (2022), they designed and performed in BRICKS – a drag-puppetry work exploring the queering of traditional masculinity as part of the Blue Room Theatres' annual TILT season. Leisl is interested in building theatrical spaces that are shocking, delightfully bizarre, queer, and destructive.
Holland Brooks (she/they) is a multi-award-winning American-Australian writer, director and theatremaker and a recent graduate of WAAPA's Bachelor of Performing Arts (Performance Making) program and is currently undertaking her Honours exploring contemporary in-yer-face theatre and the ethics/practical application of content warnings when presenting confronting and graphic work. Holland is passionate about work that is queer, political, intersectional, and totally f*cking bizarre.
Jo Cooper (She/They) is a 21-year-old, queer, Boorloo (Perth) based movement artist with a Bachelor of Arts (Dance). In 2019 they began full time training in contemporary dance at the Western Australian Academy of Performing Arts (WAAPA). In the first half of 2022 Joanna was part of LINK dance company, then transitioned into the performance making Honors stream, following a passion for creating collaboratively with an interdisciplinary focus and graduating with First Class Honours for their thesis, "on a queer, dance centred performance practice".
Mazey O'Reilly (She/Her) is an Actor, Visual Artist, multi-disciplinary maker and puppeteer with a Bachelors in Performing Arts (WAAPA 2022). Recent credits include: 'Unmirrored' – Greyscale Theatre Co. Fringe World 2023, 'The Last Ship Left' – Spare Parts Puppet Theatre 2022, 'The HMS Wilson-Smith' – (TILT award winner) WAAPA, 'Bricks'- TILT WAAPA, 'Wheatfield with Crows' – Motif Collective (Fringe award winner) Fringe World 2022. Her training includes Actor Training, playwriting, Directing, Classical Text, Japanese Physical theatre and puppetry.
The Project
The State is a satirical play exploring the downfall of democracy in a fictitious nation through an interdisciplinary combination of puppet theatre, drag performance and movement.
---
David Vikman and Kylie Bywaters
Prince Blå
David Vikman is an actor, theatre maker and puppeteer from Piteå, Sweden. He is classically trained in dance at the National Swedish Ballet School and Lund Performing Arts School and completed a diploma of acting at Calle Flygare Theatre School in Stockholm. After moving to Australia in 2018, David graduated from WAAPA with a Bachelor of Performing Arts degree in 2019, and since then has been working as a teaching artist, puppeteer, and actor.
Some of David's recent performer credentials include D*ck Pics in the Garden of Eden (The Last Great Hunt, 2022), rebirth (APK productions, 2022), Rules of Summer (Spare Parts, 2021), String Symphony (Spare Parts, 2020-ongoing), Maenad Fever (Lazy Films, 2021), and The Big Hoo Haa (2021-ongoing).
David is grateful to live and create on Whadjuk Noongar Boodja.
Kylie Bywaters studied at the Western Australian Academy of Performing Arts (WAAPA), graduating in 2017, and has since been involved in many productions with a collective of theatre companies, as a performer, puppeteer, workshop facilitator and director. She has toured extensively throughout regional WA, performing and facilitating children's theatre and art workshops. Kylie believes that everyone should have the opportunity to engage with the arts, that it is essential to the human experience, and one of the few areas in our society where people can come together to share their stories and experience.
The Project
Prince Blå delves into personal narratives and the exploration of parent and child relationships. Focusing on the themes of bravery and courage, the residency will provide an opportunity for dramaturgical probing and exploration of puppetry form.